Wolfe-Daniels Agency, Inc. incorporated in 1971 as a merger between the Wolfe Agency and the Daniels Agency offering coverage for Home, Auto, Farm, Business Owners, Crop Insurance, Health, Long Term Care, Life and Real Estate.
J. Perry Wolfe, CIC, began his insurance carrier in 1972 upon graduation from Eastern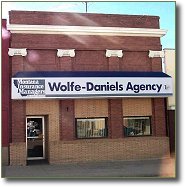 Montana College. He furthered his insurance education in 1973 in Hartford, CT with the Travelers Insurance school for multi-line agents. He has been active in the Independent Insurance Agents of Montana since 1975. Mayor City of Scobey 1981-1986, President of Daniels County Chamber of Commerce and Agriculture 1974, 1975, 1993, 1999 and now treasurer. Perry is a licensed Realtor and insurance consultant through our United Insurance & Realty office.
John W. Braut is a 1993 graduate of Custer County District High School in Miles City. He attended Western Montana College of the University of Montana and Graduated with a BS in Environmental Science and Secondary Education in 1999. He taught Junior High and High School for one year in Froid, Mt. John participated in the 1996 Independent Insurance Education Foundation Intern Program. He started in the Insurance business as an Assistant Underwriter for Bjornson/Sentinel E&L in Fargo, ND in 2000. He had just taken a job with Hull & Company in Great Falls, Mt when Greg Larson, Perry Wolfe's partner at Wolfe-Daniels Agency, Inc, passed away in Scobey; MT. John came back to Scobey to take the open position. He received his Certified Insurance Counselors certificate (CIC) in 2006, served as Young Agent Chair for Montana from 2002-2004, National Young Agent Far West committee representative from 2007-2009, and President of the Independent Insurance agents of Montana in 2011. In 2014 John became National Director in Montana for the Independent Insurance Agents and Brokers of America where he served on the National Crop Insurance Task, the InsuraPac Board of Trustees and Government Affairs Committee unit 2019 when his term ended. Locally John has severed as Chairman of the Daniels Memorial Hospital Foundation and President of the Scobey Lions Club.
Judy L. Wolfe is a graduate of Sacred Heart High School and Miles Community College in Miles City, MT. She joined Wolfe-Daniels Agency in 1990. She began her insurance experience in 1978 working for Blue Shield of Montana in their Miles City District Office. Judy is currently the Personal Lines CSR and File Clerk.
Pamela Gaustad joined Wolfe-Daniels Agency in 2002 and completed her CISR designation in 2006. She is a licensed agent and specializes in Multi-Peril and Crop Hail Insurance. After graduating from Bismarck State College, Pam worked at Manhattan National Life in Bismarck, ND. She later worked at Farmers Insurance in Bozeman, MT. Pam moved to Scobey in 1987 and worked at the Daniels County Farm Service Agency for 15 years prior to coming to work at Wolfe-Daniels. Pam and her husband Kaare Farm and Ranch south of Scobey with the help of their four sons. When not working with insurance Pam can be found helping with the day to day work on the ranch.
Lacey Southland is a 2003 graduate of Scobey High School and a 2007 graduate of the University of Montana in Missoula. Lacey specializes in claims, individual and group health insurance (both on and off exchange), Medicare supplements, Medicare part D, and personal lines insurance. She is also a licensed real estate salesperson. Locally, Lacey is a board member on the Daniels Memorial Hospital Foundation, vice president of the Scobey Swim Team, a high school volleyball MOA, and has three kids at home with her husband, Sean.

Wolfe-Daniels Agency
Insurance & Real Estate
PO Box 150 111 Main Street
Scobey, Montana 59263
Ph: 406-487-2252 Fax: 406-487-5364
Email: wolfedan@nemont.net
Home | Companies | Contacts | Real Estate | Privacy Policy

Design by Cattail