Wolfe-Daniels Agency, Inc. incorporated in 1971 as a merger between the Wolfe Agency and the Daniels Agency offering coverage for Home, Auto, Farm, Business Owners, Crop Insurance, Health, Long Term Care, Life and Real Estate.
J. Perry Wolfe, CIC, began his insurance carrier in 1972 upon graduation from Eastern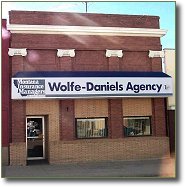 Montana College. He furthered his insurance education in 1973 in Hartford, CT with the Travelers Insurance school for multi-line agents. He has been active in the Independent Insurance Agents of Montana since 1975. Mayor City of Scobey 1981-1986, President of Daniels County Chamber of Commerce and Agriculture 1974, 1975, 1993, 1999 and now treasurer. Perry is a licensed realtor and handles real estate through our United Insurance & Realty office.
John W. Braut is a graduate of Western Montana College of the University of Montana. He taught Junior High and High School for one year in Froid, Mt. John participated in the 1996 Independent Insurance Education Foundation Intern Program. He started in the Insurance business as an Assistant Underwriter for Bjornson/Sentinel E&L in Fargo, ND. He had just taken a job with Hull & Company in Great Falls, Mt when Greg Larson unexpectedly passed away. John came home to Scobey to fill the open agents position at Wolfe-Daniels Agency. Locally he is involved with High School and Junior High athletics and Scobey Lions Club.
Judy L. Wolfe joined Wolfe-Daniels Agency in 1990. She began her insurance experience in 1978 working for Montana Physician's Service (Blue Shield). She specializes in health and long term care insurance. She assists senior citizens with health care problems as a SHIP volunteer.
Pamela Gaustad joined Wolfe-Daniels in 2002. She is a licensed agent and works with multi-peril crop insurance and personal lines. After graduation from Bismarck State College, Pam worked at Manhattan National Life in Bismarck, ND. She later worked at Farmers Insurance in Bozeman, MT. Most recently Pam worked for the Daniels County FSA for 15 years. Pam and her husband farm and ranch in the Scobey area. When not working with insurance Pam is busy with the activities of their four sons and helping out on the ranch.

Wolfe-Daniels Agency
Insurance & Real Estate
PO Box 150 111 Main Street
Scobey, Montana 59263
Ph: 406-487-2252 Fax: 406-487-5364
Email: wolfedan@nemont.net
Home | Companies | Contacts | Real Estate | Privacy Policy

Design by Cattail